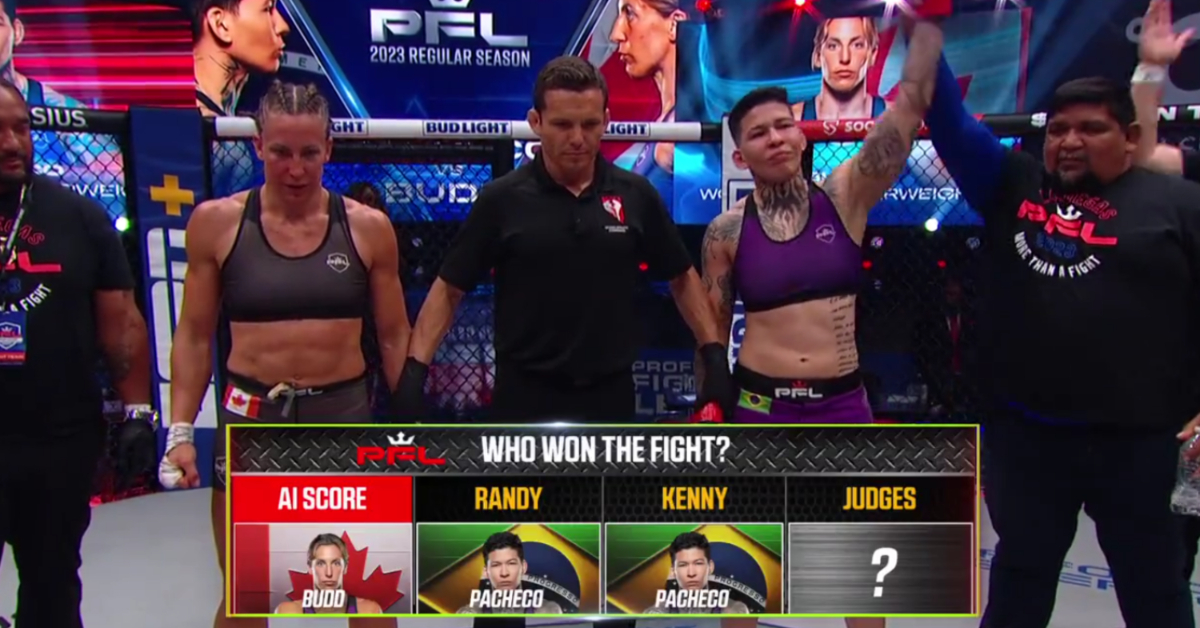 On Friday night, Larissa Pacheco returned to the PFL Smart Cage as the 2023 women's featherweight tournament began. Handing former two-time PFL champion Kayla Harrison the first loss of her career in last year's PFL Championship, Pacheco took her first step toward scoring another million-dollar check as she met women's MMA veteran Julia Budd in the evening's main event.
Larissa Pacheco came out in the opening round and immediately pressured Budd. Pacheco was in clear control, imposing her will on the feet, but Budd managed to take things to the ground near the halfway point of the first. Budd maintained top control through the end of the round but offered little offense as Pacheco defended well.
The second round started similarly with Pacheco pressuring, but as she began to slow down, Budd started to find her range which caused a bit of a swing in the live odds. Just over a minute to go, Budd shot in for a takedown but got a little overzealous allowing Pacheco to easily reverse and finish the round on top. Despite the way things ended, the round was very competitive, leaving many fans on Twitter to wonder if we were even going into the second.
Likely knowing the fight was close, Pacheco took a measured approach in the third, working for a takedown and taking Budd's back by the halfway point. Budd was eventually able to escape out the backdoor and wind up on top, but Pacheco's strength allowed her to reverse position with just over a minute to go. With seconds to go, Pacheco let her hands go, looking to score as many points as possible before the judges were asked to render their decision.
Official Result: Larissa Pacheco def. Julia Budd via unanimous decision (30-27, 29-28, 30-27)
Check Out Highlights From Larissa Pacheco vs. Julie Budd at PFL 2 Below: