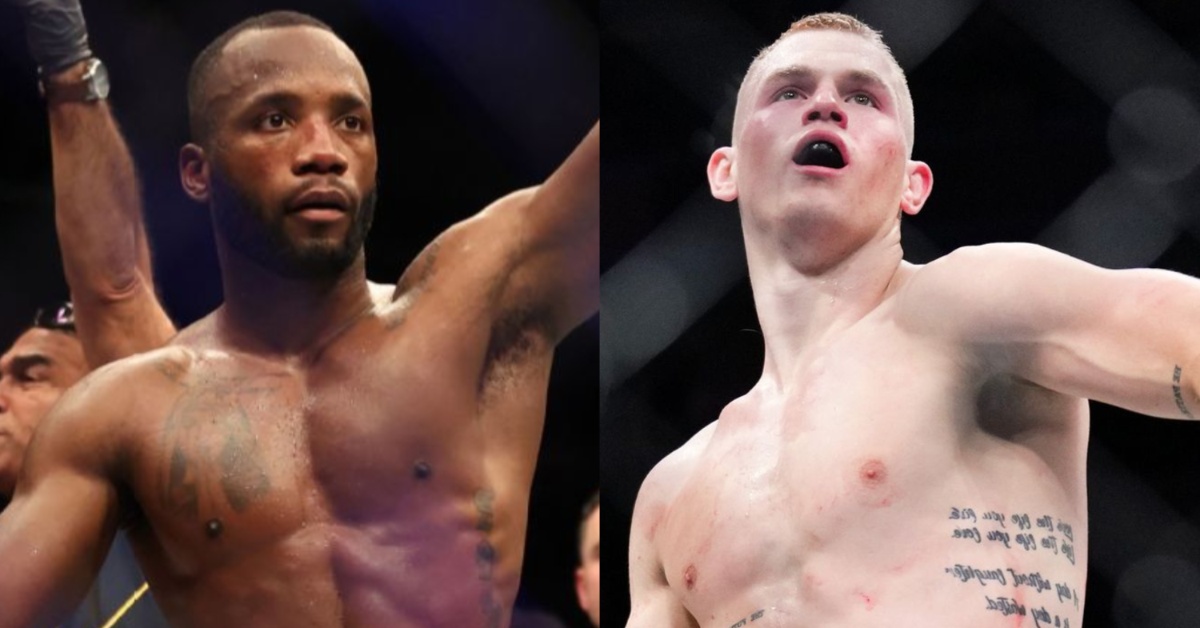 Reigning UFC welterweight champion Leon Edwards addressed all the drama surrounding Ian Garry, including reports that he kicked the rising Irish contender out of his gym.
Garry has found himself as the talk for the town over the last few months, but seemingly for all the wrong reasons. It all started when 'The Future' made claims that he was kicked out of Team Renegade where Edwards trains because the champ was supposedly "weak-minded" and afraid of some competition on the mats. Particularly from a kid who is working his way up the divisional ladder.
Since then, a few fighters, including Sean Brady and Michael Chandler, have come out suggesting that Ian Garry's conduct in the gym was the likely catalyst for his removal.
Addressing the drama directly, Leon Edwards suggested that the entire situation was blown out of proportion, but he did echo sentiments similar to that of Brady and Chandler.
"I feel like once he came to the gym, he just didn't fit into the gym," Edwards told MMA Fighting. "This is like the third gym now he's been kicked out of. It is what it is. He's just a different kind of guy. He's hard to blend with. Everywhere he goes there's a camera there. Everywhere he goes, his wife is there, his kid is there. There's a lot going on.

"There wasn't any bad blood. He came out and made it into a big thing and it wasn't. He's been kicked out of more gyms than mine. Like why are you making such a big deal out of it?"
'Rocky' has a pretty good idea as to why Ian Garry made such a fuss about the situation compared to other gyms he's been booted from.
"Because I'm the champion he wants to ride off the back of my coattails and go back and forth with me on social media," Edwards said. "It is what it is. You've got to focus on yourself.

"If he does get to the title — does he? I don't know yet. That's it. Wish him well. We'll see what happens."
Following Garry's exit from the gym, Paddy Pimblett added some fuel to the fire when he claimed that 'The Future' had been knocked out by Edwards during their brief time training with one another. Rocky' revealed that while he didn't put Garry to sleep, he gave the Irishman a little taste of what's to come should they ever meet inside the Octagon.
"I didn't knock him out clean, no," Edwards said. "He got a little taste [of the Kamaru Usman head kick] for sure."
Leon Edwards Not concerning Himself with Ian Garry's Rise up the ranks
Edwards and Garry will make their respective returns on Saturday night (December 16) at the promotion's final pay-per-view of the year, UFC 296. 'Rocky' will look to defend the 170-pound crown for the second time when he meets perennial contender Colby Covington in the evening's main event.
Garry will face his toughest test to date when he faces No. 8 ranked contender in the welterweight division, Vicente Luque.
Though 'The Future' enters UFC 296 with an impressive 13-0 record, six of those victories coming inside the Octagon, Leon Edwards isn't concerning himself with a potential showdown between the two just yet.
"Skill-wise, he's a long way away from even a thought in my brain for competing for a title," Edwards said about Garry. "Like I said, I wish him well in his endeavors but I feel like skill-wise right now, he's not a guy I think 'Oh sh*t, I need to stay away from this guy.'"