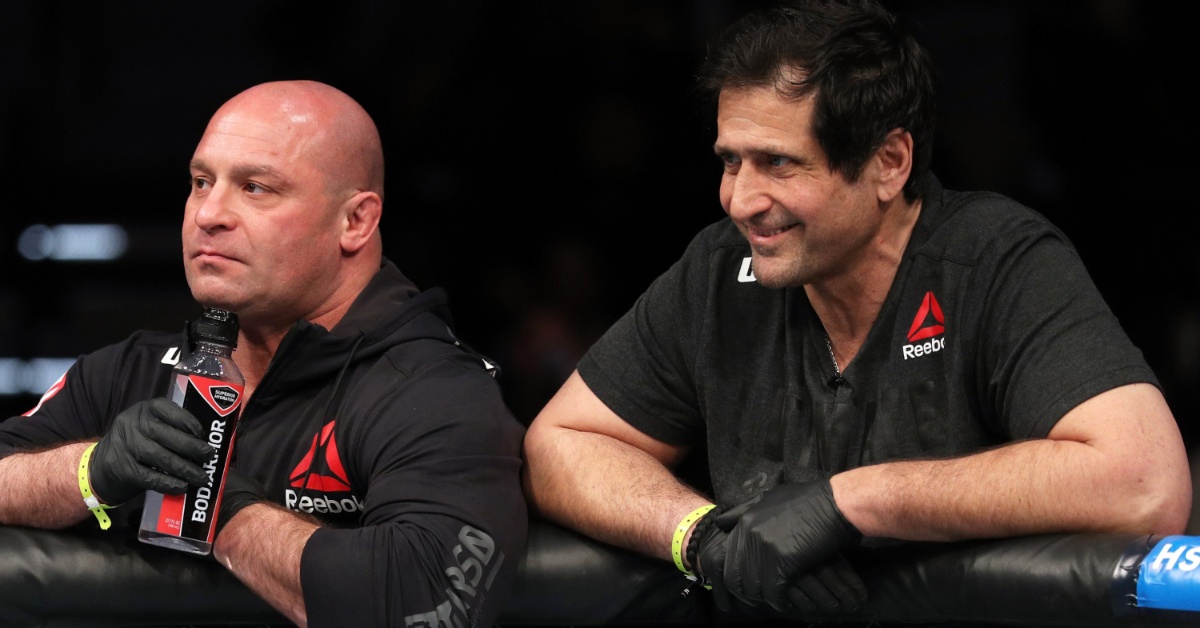 Legendary MMA coach Ray Longo recently shared a long-lost Matt Serra story, revealing that the former UFC welterweight champion had once bitten a man's ear off during a fight.
Longo, who currently presides as the head coach of the Serra-Longo Fight Team in New York, has made his mark in mixed martial arts by coaching some of the biggest names in the sport, including Chris Weidman, reigning bantamweight world champion Aljamain Sterling, and, of course, Matt Serra. Joining the gentlemen on Morning Kombat's Room Service Diaries, Longo went into great detail breaking down his legendary career. Along the way, Longo shared some pretty crazy stories, including an incident where his Hall of Fame pupil did his best Mike Tyson impersonation while defending himself.
"When I met Matt Serra, my gym was down the block from the courthouse in Nassau County and he's in court because he bit a guy's ear off in a fight," Longo revealed. "He doesn't mind me saying this now. We never really talked about this. He's at the pizza parlor, he calls his girlfriend up…
"I could get this story a little wrong too, but he calls his girlfriend up, the brother picks up the phone and basically tells him to go f*ck himself. Matt tells him to go f*ck himself. The guy's a juice head. He runs down, breaks his boss' nose. He grabs Serra in the back… This is before jiu-jitsu. He'll always say, 'If I knew jiu-jitsu, this would have never happened.'
"He bit the guy's ear completely off. As a coach I'm like, 'I got a fighter. This is the shit I'm looking for,' you know what I mean. Once you've got the balls, it's easy. If you've got a guy who's gun-shy, you can show him all the boxing you want. He doesn't want to get hit. There's nothing you can do about it unless you figure out a way to make him at ease with that which obviously there's ways to do.
"He beats the criminal case," Longo continued. "Then they sue him for like 12 million civilly and he's coming to court every day. We're hanging out talking and the guy… It was total self-defense, but the guy was saying Serra knocked him down then he bent over and bit his ear off. I'm like, 'Dude, if you did that I want you to get the f*ck out of the gym.' That's a different level. Self-defense is one thing, but that's cannibalism at that point."
Longo went on to confirm that Matt Serra beat the civil suit while also revealing that the man who lost an ear was fitted with a prosthetic piece at some point afterward.
Matt Serra's Hall of Fame Career Highlighted by 'Upset of the Decade' Against GSP
Matt Serra's career in mixed martial arts lasted little more than a decade. During that run, he amassed a record of 11-7 and is credited with scoring the biggest upset in UFC history after defeating then-welterweight champion Georges St-Pierre at UFC 69 in 2007 via a first-round knockout. Serra would hand the title back to GSP one year later. He would drop three of his last four contests en route to his retirement in 2012.
Serra was inducted into the UFC Hall of Fame in 2018 as part of the pioneer wing. His win over St-Pierre was also dubbed the upset of the decade by Sports Illustrated.